Don't Wish You Knew, Get Truview
THE PREFERRED CHOICE IN INSPECTIONS
Over $2.1 Billion in transactions in the past 12 Months and counting…
Because Smooth Closings Are Important
Truview Provides An

Exceptional & Worry-Free

Inspection Experience
Buying a property can be a daunting & time consuming process. Our job is to help make that process as easy & stress-free as possible. Our skilled Florida home inspection team can fully inspect your property and let you know of any issue of concern, including what on your property needs to be repaired, maintained, etc. Relieve all of your anxieties as a prospective or existing homeowner by scheduling an inspection with us today!
Home Inspectors
You Can Trust
We maintain a strong reputation and a high standard of customer service from start to finish of each job. In addition to that, we offer same day inspections, and we also have a report available immediately after completion of our inspection. Allow us to assist you by contacting our office at 305-908-3835 for a free phone estimate.
When you turn to TruView Inspections, you can receive honest, trustworthy service from a state licensed home inspector and general contractor. Whether you are looking for a Central Florida, Palm Beach, Miami, or Broward home inspector, our goal is to give you a thorough and reliable inspection, while still offering a convenient option. This includes having our staff arrive on time so that you aren't left waiting around, and providing evening and weekend appointments so that you can schedule your inspection when it works best for you.
Home Inspectors You Can Trust
Our

Inspection

Services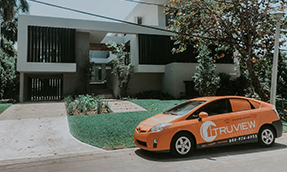 When it comes to home inspections, we are the best choice for homeowners, homebuyers, and real estate professionals. We work to objectively collect and present the facts to you and your real estate professional.
Let an inspector from Truview give you an accurate and thorough assessment of the building so that you can make better, more informed decisions. When you want to maximize your investment, Truview Inspections is the one to call.
4-Point/Wind Mitigation Inspection requirements vary between insurance companies, and they can change at any time. It is crucial that you have an inspection performed by an experienced inspection company.
Our team is highly trained to provide the most thorough evaluation of your property.
Serving All Of Florida
Truview Provides An

Exceptional & Worry-Free

Inspection Experience
At TruView Inspections, we take pride in our property inspections, which include assessing the structure and systems of homes from top to bottom. Through these inspections, we are able to provide professional recommendations and inform you of any areas of concern. Start today by contacting us at 305-908-3835 for a free estimate.
We perform Central Florida, Treasure Coast, Palm Beach, Broward, and Miami-Dade home inspections. Our company was developed with the buyer in mind. To make sure the property you purchase is safe, livable, and won't leave you continuously pouring money into it. Buying a new home can be a daunting task, but with an assessment from our team you can trust you are making a good purchase.